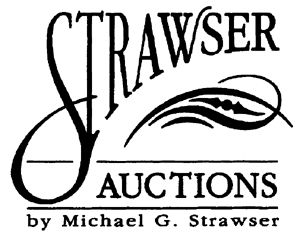 Weekly Auctions of Exceptional Items
Upcoming Auctions
Reviews
Past Auctions
Record Results
Upcoming Auctions from Strawser Auction Group
Strawser Auction Group has no upcoming auctions.

Follow this

auctioneer to hear about new auctions.
Bidder Reviews for Strawser Auction Group
(

333

)
8

Latest Reviews

See All
Brooke
Cleveland Heights, OH
Holly
Williamsburg, Missouri
Fr. Robert
Cathedral City, CA
Ronald
New Hope, Pennsylvania
Strawser Auction Group is "Top Notch!"
I recently participated online in a Strawser Auction. I was given the opportunity to pre-register for the auction, and as soon as my registration was approved I was able to place bids on items. Periodically I would receive reminders via e-mail that the date of the auction was approaching. During the auction, I received e-mails giving the status of my bids ie: "You won this item." At the end of the auction, I was e-mailed an invoice which itemized and gave a total due of the items that I had won. Additionally, a request to choose a "shipper" was e-mailed. The shipper reported that a piece had broken off of one of the items that I had won. Strawser immediately sent a check of reimbursement for that item. Strawser Auction Group is truly "Top Notch!" They respond quickly to e-mail requests for information, and it is easy to reach someone by telephone. The staff is always helpful! I am very satisfied with the services that they provide!
John
San Pedro, California